Even seasoned boaters and fishermen often feel overwhelmed when faced with the job of purchasing a new fish finder. No single fish finder can claim to be the best, which won't change soon. Here is the list of best fish finders 2022.
Numerous models are released yearly, and different makes and versions excel in different situations. This article will help you select the best fish finder for your needs and budget by sorting through the various options and marketing terminology.
Most fish finders come with a few essential parts. Discover how the many sonars and fish finder features of today's leading fishing electronics may enhance your experience on the sea and increase your catch rate. Whether ice fishing or kayak fishing, the fish finders reviewed below will serve all purposes.
Best Fish Finders 2023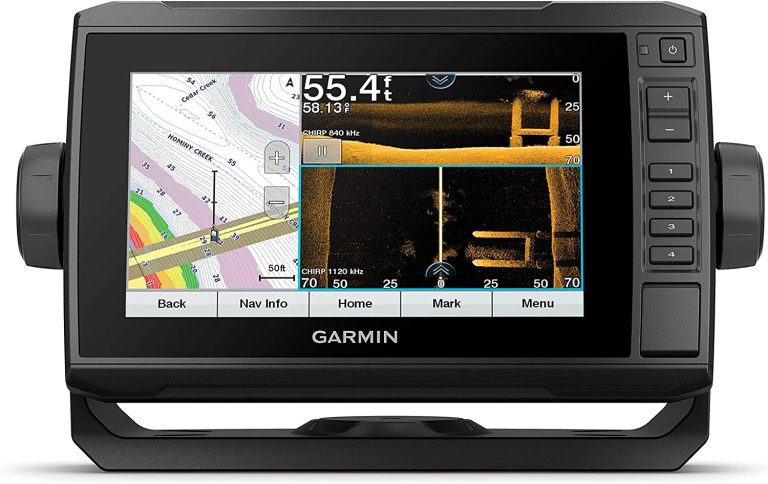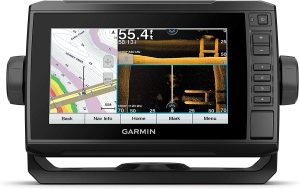 Contrasting experiences enrich one another. Possibly, but you can't say if that's the case with modern fish-finding equipment. The Garmin Echomap UHD gives a lot of possibilities with a multitude of different functions.
Having too many options can make things more difficult, leading you to seek other fish finders. However, the Echomap UHD's mapping technology is the most notable aspect of this product. We are particularly interested in Bluechart G3, but they also have World Basemap and US Lakevu G3.
Few fish finders have coastline mapping and charting abilities, but most cover U.S. inland lakes. You will have access to this feature if you purchase the Echomap UHD with the Bluechart G3 upgrade.
Statistics and maps for fishing in coastal waters, canals, and the open sea are included. Off the coasts of the United States and Canada, including the Gulf of Mexico and the Great Lakes of Canada, you will receive data with 1-foot contours.
Display & Interface
As usual, we'll begin with the visuals. The UHD 93sv boasts an impressive 9-inch backlit screen. It's useful when the sun is shining brightly, when it's raining or misty outside, and when the stars are out.
This is par for the course for high-end fish finders; the screen is attractive, but we won't linger over it. Combination screens are another standard feature of fish finders in this price range. Fish finder screens like these make it easy to compare and contrast multiple data sets at a glance, letting you compare your ClearVü and SideVü to a traditional sonar and active imaging quality or your map to your sonar.
At most, a combo screen can show three different perspectives at once. This is a minor drawback of the unit because some finders support up to four, although we rarely ran into this limitation in practice.
Data overlays allow you to scan for important information regardless of your current screen swiftly. Depth, water temperature, current hour, precise GPS location, and more are all factors. Also, rather typical but still useful.
Wi-Fi Connectivity
With the inclusion of Wi-Fi, only Humminbird's entry-level fish finders remain wirelessly unconnected. You can access your cellphone's apps and messaging services and download maps. This feature is also best for a permanently mounted fish finder.
ActiveCaptain Mobile App
You can get more maps using this brand-new software. You may go into the app and upgrade your maps or buy new ones whenever you need them. You can connect with the public to download other users' maps and post, save, and upload your Quickdraw map data.
If you're curious (though we don't see why you might want to), you may have your incoming calls and texts shown on the screen.
Pricing
This kind of fish detector comes in many different designs and variants. Prices for this set can range from $699.99 to $749.99. Since the Garmin Echomap UHD isn't all that much bigger than the ordinary right fish finder, it's priced comparable to regular fish finders.
Pros
Provides superior navigational mapping skills in both fresh and saltwater
CHIRP Sonar
High-Definition (HD) Imaging fish finder
Superb mapping (and a wide variety of maps available at purchase)
Compatibility and ease of use with other devices and networks are also excellent.
Intensely Feature-Rich
Cons
More costly than average
Navigating the menus can be a chore on a damp touchscreen if there are no arrow buttons.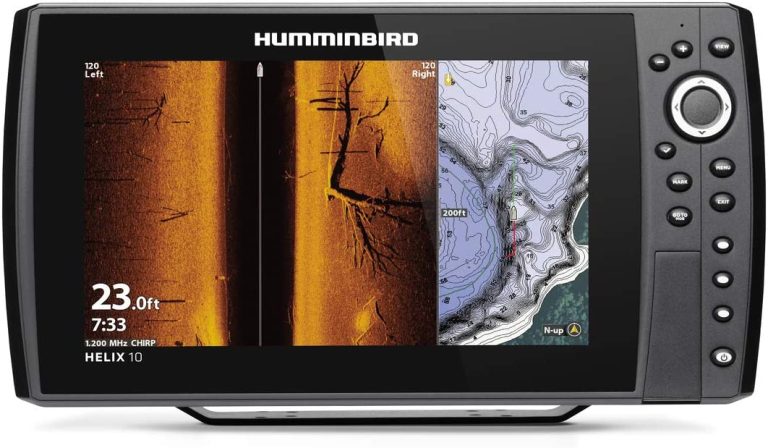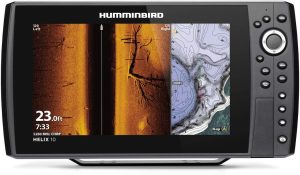 If you're serious about fishing, the Humminbird Helix 10 MEGA SI+ GPS G4N is a great fish finder. It has all of the newest and most advanced gadgetry available. The widescreen display, excellent functionality, and other necessities for a successful fishing trip are all provided by this fish finder.
This fish finder device has excellent resolution and is a plus for users. The Humminbird Helix 10 MEGA SI+ GPS G4N is a 10.1 inches Wi-Fi fish finder with a huge screen. This instrument measures 19.25 inches long, 12.75 inches wide, and 10.25 inches high.
The product's appearance belies its light weight of only about 5 pounds. Using it is a breeze and fits easily in your bag, making it ideal for vacations. It is portable and can be set up in practically any place.
Imaging Color Schemes: 12 Options
Over a dozen new color schemes are available on the Helix 10. We are sure our favorites may vary based on the sort of lake, but some of them seem great, and some look a little gloomy. The tried-and-true Amber 1 palette and the newer Yellow and Plum palettes are our current top picks for SI and DI, respectively.
The bright yellow color is eye-catching, and the reddish-orange returns stand out. On 800 kHz, the Plum color scheme shines.
Dual Spectrum CHIRP Sonar
The company's patented Low-Q transducer powers Humminbird's dual spectrum CHIRP sonar. Two different search modes (Wide and Narrow) are available. In Wide Mode, your area of protection is maximized. It helps keep an eye on your lure during vertical jigging and for seeing further while fishing in shallow water.
But the Narrow Mode zeroes in on the tiniest of specifics. Use it to locate fish hiding under cover and determine whether or not what's underneath you is worth catching. While CHIRP technology is available in goods from different fish finder brands, it is typically only usable within a narrow frequency range.
The full-spectrum capacity of Humminbird's CHIRP will allow you to get better fish and structure readings. If you are looking for a quality fish finder for your kayak, this is definitely the best bet.
360 Imaging
You can see everything surrounding your boat in breathtaking detail with the HELIX 10 CHIRP MEGA SI GPS G2N. Instead of navigating your boat about aimlessly while trying to gather this information manually, you may focus on capturing the fish on your screen. Utilizing the 360-degree feature, you can view every fish and hard object around 300 feet from your boat.
Wireless Capabilities
Marking waypoints, zooming in, and scrolling across screens will no longer necessitate a trip from the head to the cockpit due to the CHIRP MEGA SI GPS G2N. Instead, you'll be able to keep fishing while still controlling the fish finder due to full wireless control.
Pricing
This fish finder comes in a wide selection of styles and colors, giving you plenty of room for personalization. It's possible that purchasing this bundle at this time will cost you as much as an expensive fish finder, $2083.67.
Pros
Packed with personalization features
Super simple to use
Stunning 10″ HD display
Down imaging sonar and side imaging sonar are both available.
Combo of Humminbird's Basemap and Navionics charts
Multiple connectivities
Waterproof and long-lasting
The program is upgradeable.
Cons
Pricey
Many of the available models have been purchased.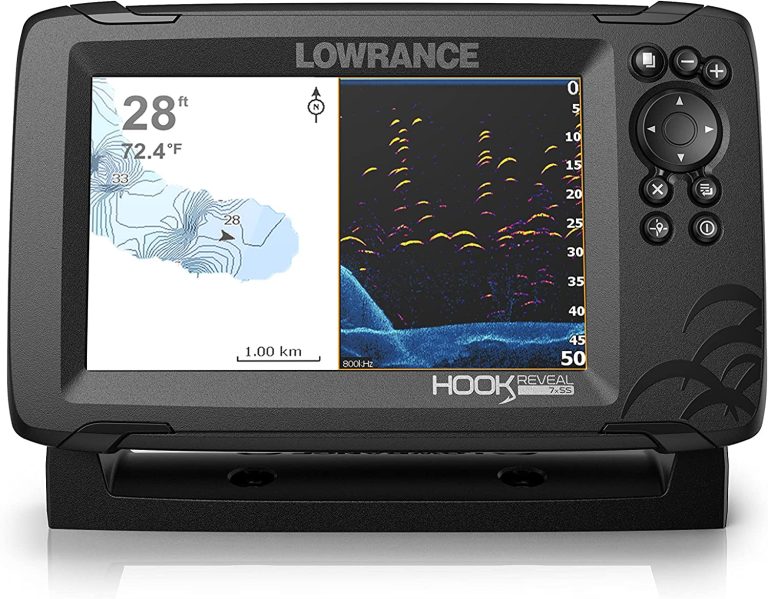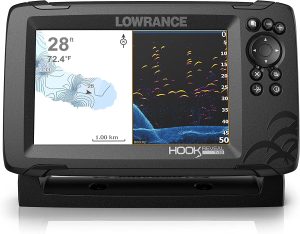 Lowrance's HOOK Reveal is a fish finder/chart plotter designed with the recreational and occasional fisherman in mind. This is the most reasonably priced of the new generation of fish finders designed specifically for kayaks. It's a huge improvement over the HOOK2 in a lot of respects. This is a great option if you're hunting for a fish detector and your budget is less than $900.
Lowrance has made great efforts to ensure that this unit is as user-friendly as possible, particularly for novices. The device is essentially ready to use immediately out of the box, can be mounted quickly, and has many helpful features. You may choose from more transducers, and they've added a ton of capabilities that the HOOK2 lacked, as well as significant improvements to the mapping.
Fish Reveal
This fantastic new sonar perspective is only available on Lowrance products. This perspective is effectively a mashup of DownScan's picture-like pictures of the bottom architecture and CHIRP sonar's 2D information from the water column. In what way does this aid you?
Helps Reveal Fish –
On DownScan sonar, fish often appear as tiny dots or balls, making them difficult to distinguish. CHIRP sonar can transform small specks into recognizable arches, making fish simpler to spot. FishReveal is a hybrid of CHIRP and DownScan, combining the former's attractive structural imaging with the latter's fish arches for improved fish detection.
High-Resolution Charts
If you want to see the ground and coast contours for enhanced fishing, the HOOK Reveal line can access C-MAP® Contour inland and coastal charts. With the supplied card, you can fish in any of the more than 14,000 lakes in the U. S. and any of the more than 9,000 lakes in Canada.
Additionally, you can save costs and choose a GPS-only version rather than the whole C-MAP bundle. As a bonus, Genesis Live allows you to import lake data from a memory card to make personalized maps.
This function comes in handy when fishing in areas where charts are unavailable or when you need to check current, detailed contours.
GPS Mapping
Every gadget is equipped with basic GPS plotting and the Genesis Live app for making contour maps. Up to 3,000 waypoints, 100 routes, and 100 trails can be plotted using the GPS. Waypoints, routes, and trails are great for identifying favorite journeys, monitoring places you frequent, and more. A fish finder with GPS capabilities is a major improvement over one without.
Pricing
This down scan fish finder comes in a wide selection of styles and colors, giving you plenty of room for personalization. If you buy this bundle today, you might save between $600 and $800.
Pros
Exceptionally Modifiable
Simple In Implementation And Use
CHIRP Sonar (With Great Range)
Extremely Accurate Built-In GPS fish finder
Gimbal Mount That's Simple To Tweak
Feature-Rich
Superb Cartography
Fish Reveal
Cons
Relatively high cost for a small version
Getting the wrong bundle can be a waste of money.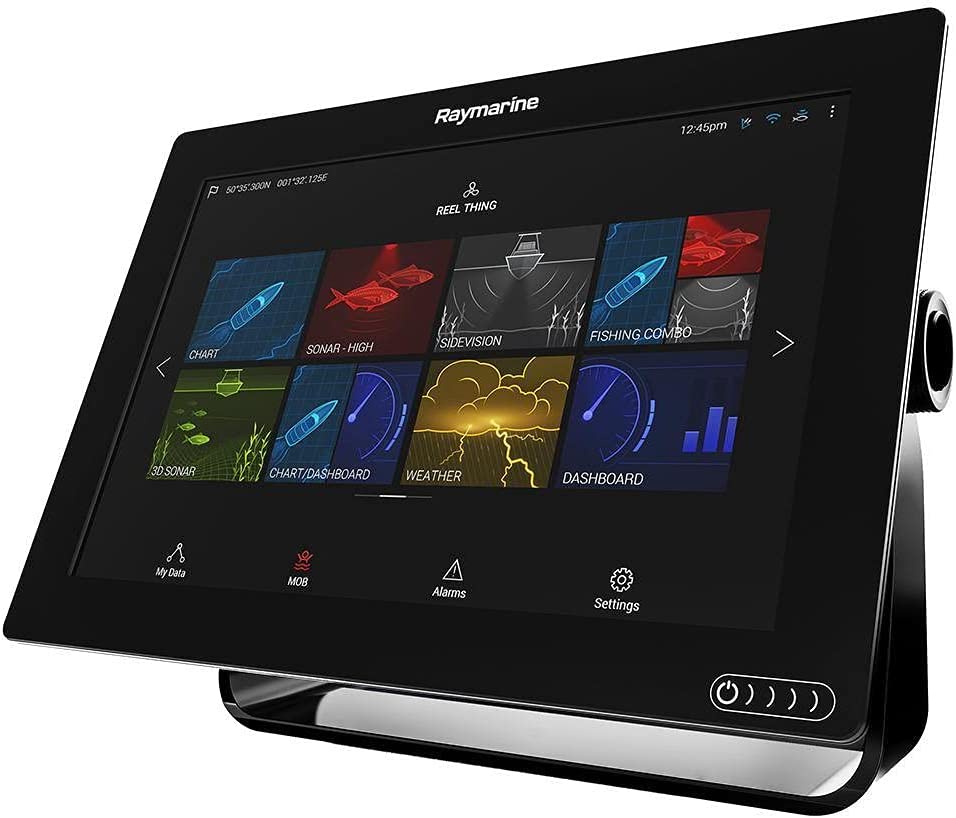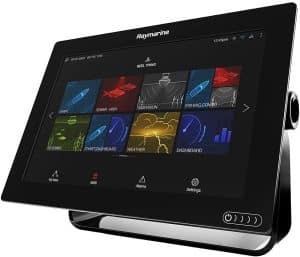 When it comes to top-tier, commercial-grade fish finders, none compare to Raymarine's Axiom lineup. The Raymarine Axiom 12 is the most recent model. It's made for avid fishers who want one tool to do it all, and it does it all well. This fish detector is a top-tier model with a hefty price tag, but its many useful functions more than makeup for it.
The Axiom 12 is operated via Ray Marine's advanced Lighthouse 3 touchscreen interface, which measures a whopping 12 inches in diagonal size. It's basically a supercomputer that compiles information from various sensors to show what's happening below the surface in real-time.
The Axiom 12's transom-mounted RealVision 3D 4-channel transducer is the heart of the boat. The gyroscopic technology in its construction counteracts the boat's motion, resulting in a more precise sonar image of the seafloor at depths of up to 200 feet.
RealVision 3D
To provide an excellent sonar image of depths more than 200 feet, the RealVision 3D uses a four-channel transducer positioned in the boat's transom. It provides a bird's-eye view of the area beneath, around, and to the boat's sides.
The 3D image can be tiled, zoomed, and panned for inspection from any angle. In addition, the gyroscopic technology keeps the boat level and automatically compensates for any motion.
CHIRP Technology
High-definition (HD) lifelike marine graphs are generated by RealVision 3D using high-frequency CHIRP technology, which consists of DownVision and SideVision sonar. The broad CHIRP sonar accurately identifies your target fish by transmitting 60 various frequencies to generate a lifelike image.
With CHIRP DownVision, you can get a picture-perfect look at the seafloor underneath your boat. As a result, you'll be able to study the underwater terrain and fish more strategically. However, the CHIRP SideVision expands the underwater picture, showing bait, fish, and other items from bank to bank. As a result, the image quality is clean and exact, allowing you to spot more fish than with conventional side sonars.
All-Glass Display Screen
The all-glass window allows you to observe your fish in all its glory, regardless of season or time of day. The super-bright LED lighting and optical bridging will shine through when the sky is dark, and the stars can't be seen.
This 12-inch all-weather display has double the resolution of regular screens and can get as bright as 1,800 nits. Hydro Touch Nano coating on the impact-resistant glass protects it from oil and water spills and improves visibility.
Pricing
This fish finder offers numerous aesthetic customization options. At $2220.48, you'd be paying a bit more than necessary right now for this package deal.
Pros
The big

fish finder's screen

makes everything very legible.
Displays stunning photographs
No stuttering or freezing
Capability for multiple touchpoints
System operating rapid response
Supports Wi-Fi connectivity
Comprises a geography collection with thousands of maps
Cons
A bit expensive
Using a touchscreen while at sea can be challenging due to the turbulence.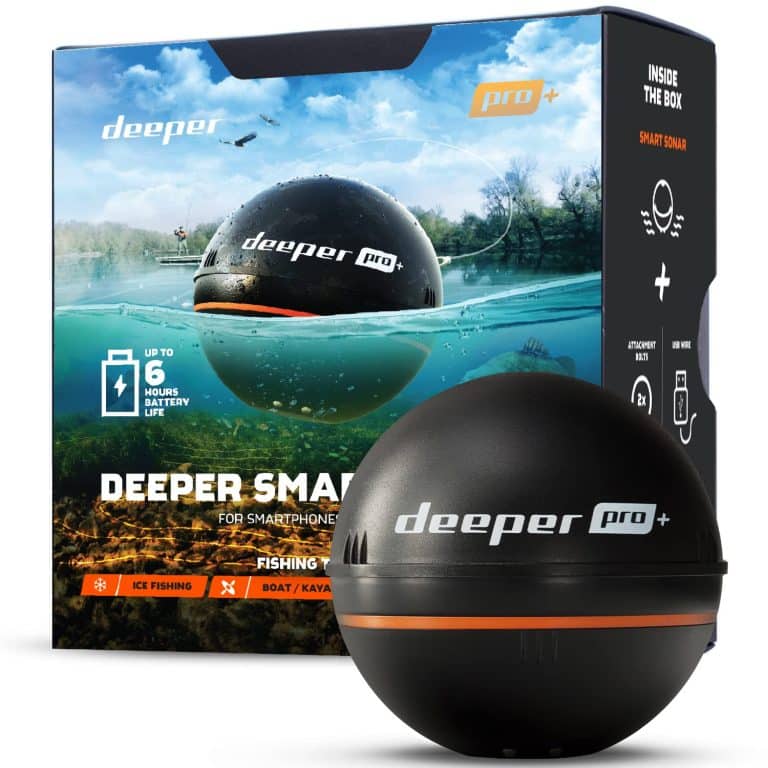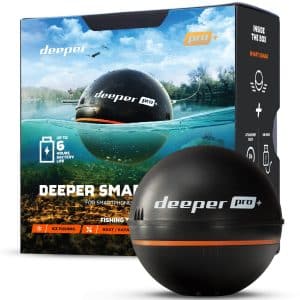 Portable fish finder have been made possible by models like the Deeper Pro Wireless Sonar. The Deeper Pro removes the last barrier to entry for using sonar when fishing, eliminating the need for a boat with a permanently installed transducer. You can keep track of your favorite places with a GPS fish finder.
Wind in and use the sonar to scan the river floor; the results will be sent wirelessly to your phone. Save scan data and recognize characteristics like structure and fish using the companion smartphone app.
Looks and Portability
This fish finder is quite stylish, and we can't deny it. It has the potential to be the most visually appealing product we've reviewed. It's a tiny, black sphere made of ABS plastic, about the dimensions of a tennis ball. It's the ideal size for your hand, and it vanishes when you put it away. We have searched high and low, and this Deeper is the most easily transportable fish finder we have come across.
This gadget offers a feature that is unavailable on larger systems. Scanning the water in inaccessible areas is possible. The Deeper fish finder is designed to go where boats can't. This handy device will discover what's lurking beneath a bridge or amongst the rotting logs. The only thing left is to jump in and see what you can find.
Operation
The finder's user interface is intuitive, but before planning your swim, you should familiarize yourself with the various modes and settings. Selecting a narrow sonar reach will give you a more detailed picture of the lake below, but it will cover a considerably smaller area than the wide option. With the broad scope, on the other hand, you may cast once and get a bird's-eye view of your entire swim.
Reeling in too quickly can reduce the fish finder's sonar's ability to gauge depth. The Deeper Pro+ eliminates these weight and operation concerns because it is permanently mounted on a boat or bait boat with a stable arm.
Frequency & Cone
We appreciate having a range of options for both frequency and cone intensity. Smoothly switch between wide- and narrow-beam frequencies of 90 and 290 kHz to get a birds-eye perspective or a detailed map of a specific area, respectively.
It allows you to zero in on one specific task and give it your whole attention. Among castable fish finders, the frequencies provided are among the best. It has a fantastic cone and frequency range, making it a fantastic transducer.
Pricing
Deeper Pro Wireless Sonar is the greatest fish detector if you're on a tight budget. The price tags total $179.
Pros
Features blazing-fast Wi-Fi with no need for a cellular data plan
Scan Rate: 15/s Use the fish-catching convenience of the smooth Trolling function.
At a range of 260 ft / 80 m, the Pro model can scan with pinpoint accuracy.
Up to 100 meters / 330 feet of casting distance
Double-lens scanning
Excellent for fishing style from a kayak, boat, ice, or shore
The Deeper app for iOS and Android devices is packed with useful tools like split-screen viewing, fish ID, and more.
The battery just needs to be charged for two hours after being used for six hours straight.
Cons
A WiFi-enabled smartphone is required.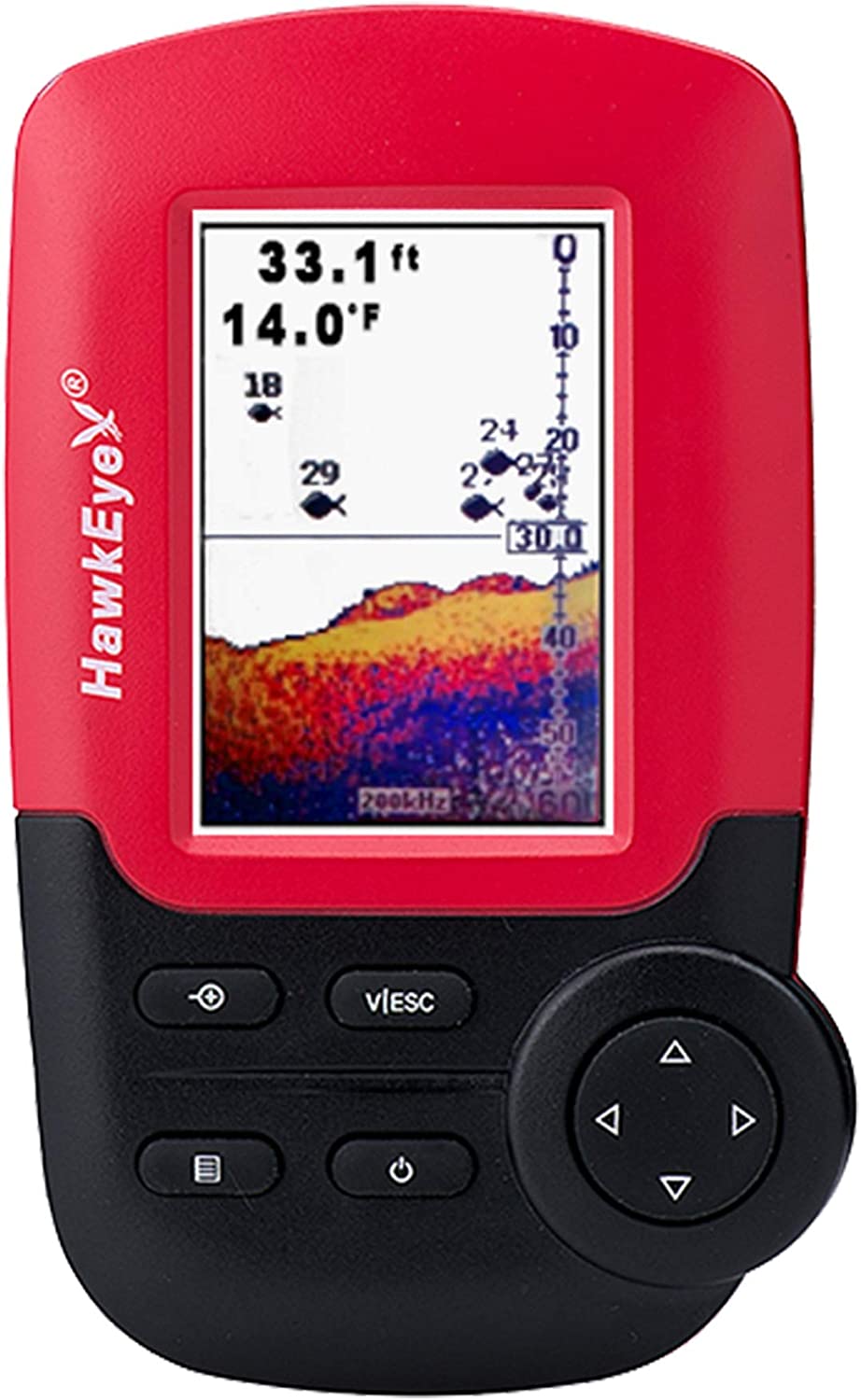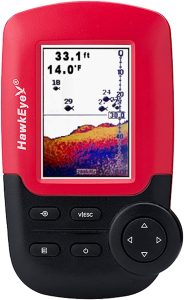 Before anything else, get your hands on a HawkEye Fishtrax 1C if you want to be ready to catch a ton of fish in a short amount of time. Precise readings from a depth of up to 240 feet are brought to you by the FishTrax-supported intelligent sonar, which is shown in HD on the fish finder's glare-free VirtuView color screen illuminated by LEDs.
FishID and FishArc locating indicators provide an audible warning to let you know the fish are close by and ready to be hooked. Whether you install or float the sonar sensor or trolling motor is mounted to pull it.
Reliable Display Outputs
HawkEye's Clean-Screen Adjustment is built into the HD VirtuView color monitor. A user can manually alter the sensitivity to fine-tune SONAR returns and eliminate false readings from the display. As a bonus, the FishTrax 1C employs sophisticated algorithmic software developed after 20 years of SONAR research and development.
Better still, this function reduces the likelihood of erroneous readings and facilitates pinpoint aiming. In addition, the polarized screen on the FishTrax 1C ensures clear, glare-free viewing in any environment. Additionally, you can use this glare-free function with or without sunglasses.
Programmable Alarms
The FishTrax 1C offers configurable sound alarms and multiple operational modes. If you set depth and fish detection alarms, you'll know when you've reached your desired depth or when fish are detected.
Pricing
Deeper Pro Wireless Sonar is the most effective if you're looking best budget fish finder. It costs $112 to purchase.
Pros
Intuitive Design:
Outstanding longevity
Battery box constructed in
Powered entirely by internal means.
Versatility and portability are unparalleled.
Guaranteed for two years.
Cons
It resembles the design of classic mechanical toys.
The screen is smaller.
More mounting choices are necessary for greater versatility.
The Final Thoughts
This article has compiled a list of the best fish finders available in 2023. Only the greatest fish finder for your needs will give you accurate readings. When we say "you," we're referring to the specifics of your fishing situation, including the type of boat you're using, the water conditions, the fish you're after, and your preferences.
The successful techniques for one angler might not apply to another. Do some homework before making a major purchase to ensure you get the right one for your requirements.