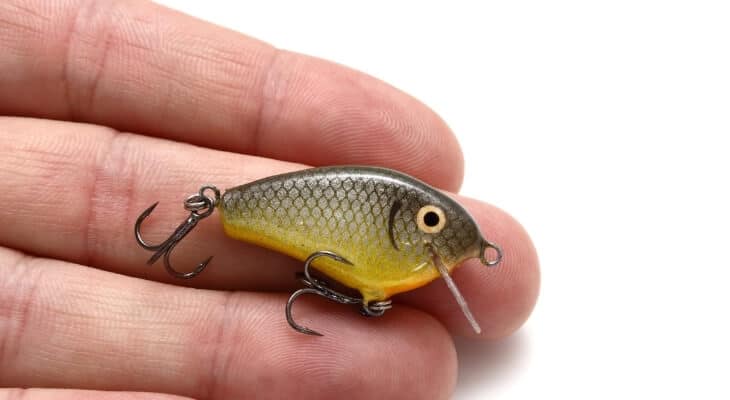 If you are starting as a trout fisherman, the number of lure alternatives in the market can seem overwhelming. There are many decisions trout anglers will have to take when they go to streams and rivers for fishing. One of the most difficult yet the most significant is choosing the right lure that suits your needs. It is imperative because having that right lure tied to the rod can make a huge difference between catching trout or coming home empty-handed. Here are some Best Trout Lures For Rivers
Confused as to what the best lures are, or which ones will cater to your particular needs? Do not stress. We have got you covered. This article enlists the best 10 trout lures for river fishing available in the market. Moreover, you will also receive essential and valuable tips that will aid you in catching more fish with ease.
Did you know: "Trout lures for rivers are different from those used in ponds and lakes. It is mainly because of the constantly strong moving currents in rivers".
List Of Top 10 Best Trout Lures For Rivers And Streams
Given the number of options accessible in the market, you might find it challenging to choose the best lures for river fishing. We have furnished a list of the best lure for trout to make catching trout fish a breeze on your next fishing adventure.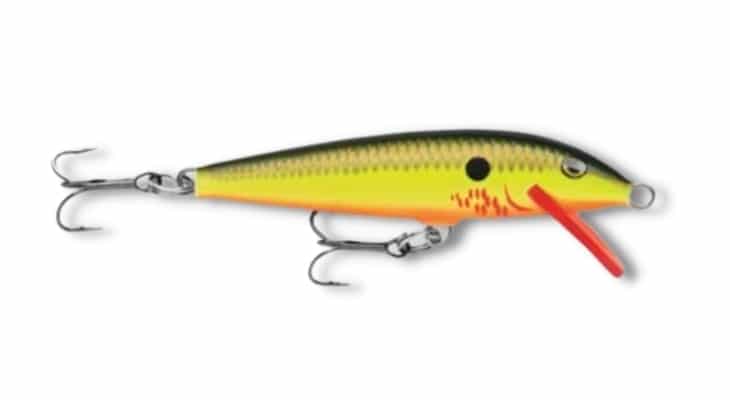 If you are looking for the best lure for river, then beating the world-renowned Rapala can be tough. The Rapala Original is one of the most amazing lures in the market and works excellently as a surface bait and even retrieved as a shallow runner. The majority of professionals say that they have caught the most number of trout with this lure. The performance of this particular bait imitates a wounded minnow which makes it a challenge for trout to resist—looking to have a lure that should be on the top of your fishing gear? Get this for your tackle box. In our opinion, it is one of the best trout lures for rivers.
Check the price of Rapala Original on Amazon.
Tip: If trout anglers want to fish in the bottom or middle of the water body such as rivers, then you should add a split shot line. This will allow the Rapala to reach deeper depths.
As one of the lightest lures (0.125 ounces), the Blue Fox Vibrax is the perfect fish catcher. It has a compelling vibration and a spinning rotation, because of which this lure has made the top 10 list.
The best trout lures for streams excel 2 feet to 6 feet deep. In terms of design, it comes in two parts that emit a low-frequency sound vibration. As a result, it activates strikes and eradicates line twists. The in-line spinner characterizes a stainless steel shaft wire, high-quality VMC treble hook, and internal vibrating rattles that are made of durable materials and will last a long time. The main body of this lure is made using brass and has blades with copper or silver. You will also get free-turning brass gear with this river fishing lures trout. Consequently, there won't be any twists while fishing.
Moreover, the lure will add vibration, which ensues when the free-turning brass knocks against the external body. It will attract the fish, making it a breeze to catch them. Out of all, the most bought colors are gold and silver, given that they are most effective. This lure is known for its action and flash.
If you prefer fishing in rivers and streams, you should definitely consider this as the best trout lures for streams. It also looks like a spoon lure hence doubling its efficacy.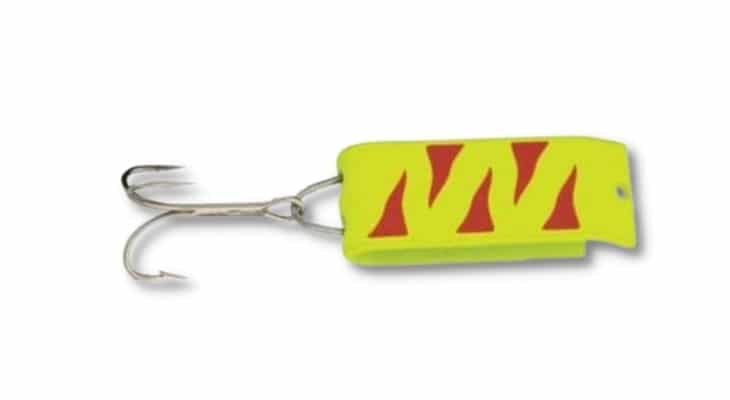 Easily accessible on Amazon, Jake's Lure is not very famous though it is excellent. It is one of the best lures for river fishing for bigger rivers with deeper pools and a stronger current. You can catch monster brown trout when casting with the red/brass spot color. Compared with other lures on the list, this spoon lure bait is slightly heavier. The Jake's Lure comes with a smaller profile, which is excellent for imitating baitfish. This lure allows for problem-free casting when throwing the line far and catching the fish quickly. It works best in fast-flowing river currents and thus is regarded as the best trout lures for rivers.
Tip: Unlike other river trout lures, it is imperative to use this lure with a swivel because this way, it tends to run better in the water.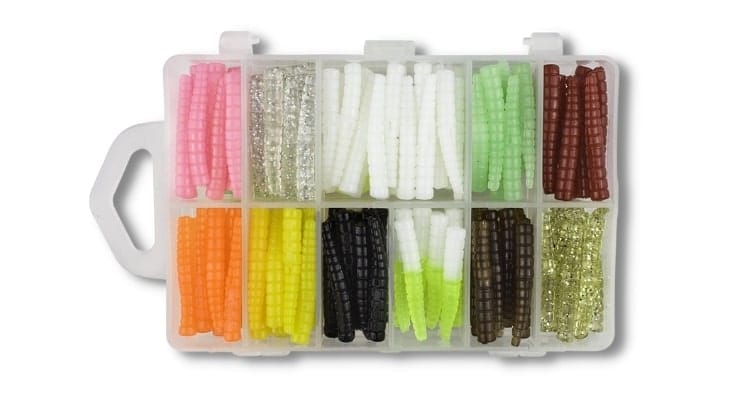 Another amazing lure that has made the list is a trout magnet. It is simple yet has a killer finesses technique that allows anglers to catch a ton of trout. These aren't exactly fancy and have a pink rubber grub that looks a lot like earthworms. This ultra-light rig comprises a plastic body, small jig head and is generally paired with a bobber.
The lure has a split tail and comes with jig hooks. Moreover, you can find a variety of sizes. You will notice that trout lure motion on the river is extraordinary. However, in order to catch a trout, you will require a trout magnet combo. The combo comes with floats that you can attach with it contingent upon the depth of the water. For instance, if you are trying to catch a trout in 5-ft. deep water, you should attach the float to the jig head and the lure can go down approximately 3-4 ft in the water. Therefore, trout magnet lure is the best bait for techniques utilized in rivers and streams for fishing.
You can easily buy the trout magnet lure for river from Amazon.
Tip: Customer reviews suggest that majority of people have been successful with pink and white colors.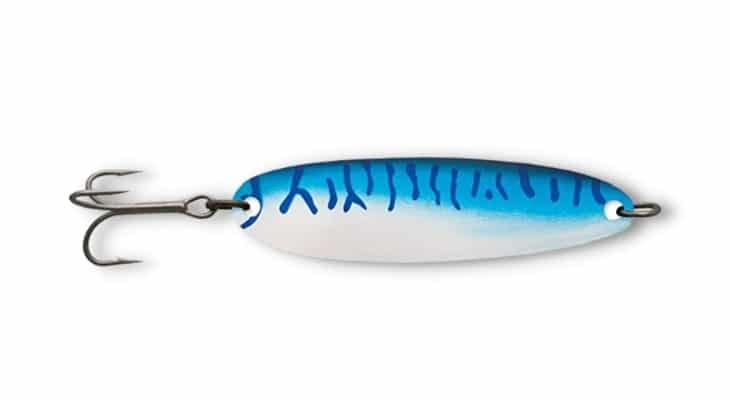 The Krocodile functions on a fundamental principle: big fish will eat small fish. Consequently, they are able to produce excellent lures. You can cast, jig, retrieve and troll it over structures. With these trout lures for rivers, you can catch all types and sizes of fish (big or small).
The Luhr Jensen Krocodile spoon is a perfect bait for multi-species. It is one of the biggest fishing spoons on our list of recommended river trout lures. The best trout lures for streams are ideal for any fish, especially trout that is searching for a flashy meal. This lure's spoon is narrow in shape and has a heavyweight design.
As a result, this Krocodile spoon is a fantastic combination of flash and thump, which attracts different fish. It is a versatile lure that comes in a narrow minnow shape, allowing it to sink quickly. The lure is made using solid brass and then coated with corrosion-resistant chrome. The heavy-duty construction allows the lure to be used in rivers and streams, fresh and saltwater. Opt for the right color and size which matches your streams and rivers so that the lure can deliver.
Check out the customer reviews on Amazon and choose the right lure for your requirements.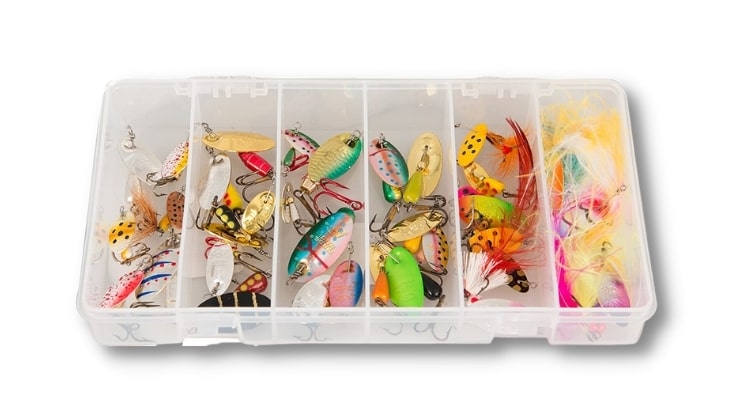 Another excellent river trout lures specifically for rivers and streams is panther Martin. It has been around for years owing to its high-quality construction and catch rate. It is a lot like a rooster tail lure but without the tail. These in-line spinners are excellent and work perfectly for catching trout in the rivers. As the best trout lures for streams, it is incredibly lightweight and is renowned for offering a perfect spin both in and out of the current.
Given that Panther Martin comes in a concave/convex blade shape, the spinner immediately catches the trout's attention. In addition, it has an in-line construction that produces a bright flash and vibration that will grab the fish's attention.
Most professional anglers opt for Panther Martin Spinners because they offer high performance and will stand the test of time. Available on Amazon, this best trout lures for streams and rivers is a must-have for every angler in their tackle box if they plan on going fishing in the river or stream. This lure comes with a blade that is perfect for appealing fish towards it. The blade mimics a water buy, which is loved by trout.
Similar to a rooster tail lure, it comes in an extensive range of sizes and colors. The silver-plated blade stands out in the water because of its small yellowish tail and red tip.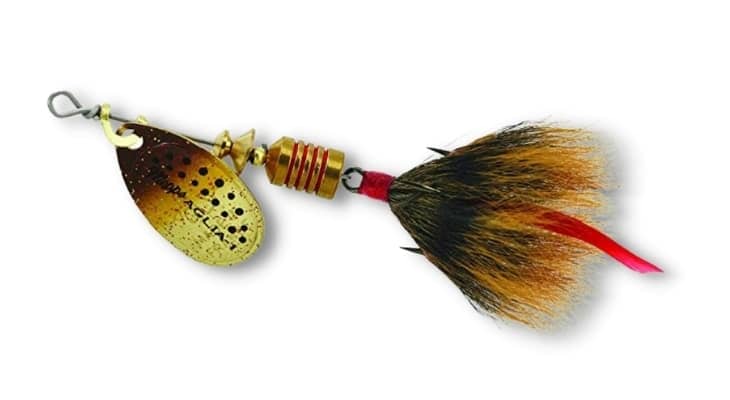 Mepp's Aglia Spinner is excellent and comes with a treble hook. It begins to spin as soon as it touches the water, which instantly attracts the fish; this makes it the best trout lures for rivers. Additionally, it is one of the best spinners and allows anglers to choose from a range of sizes. You can opt for #00 and #1 when going after smaller trout, while larger ones require you to use a #2 or #3. The hook is of excellent quality and is available in perfect sizes to guarantee that you can bait any size trout in rivers and streams alike.
You can easily find these diverse sizes on Amazon.
Tip: it is essential to remember not to utilize a swivel. Instead, you must tie the line directly with the lure as it will allow the river fishing lures to spin naturally, making it look like a real fish action. Moreover, you will have to learn how to trail the lure because it will allow you to catch the trout in streams easily. The river trout lures are made using durable and long-lasting materials.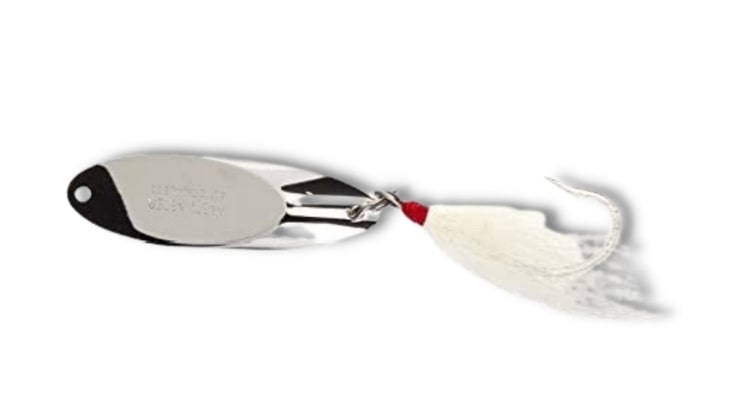 These trout lures for rivers are on the heavier side, making them ideal for deeper streams, rivers, lakes, and open waters. It is an excellent bait for trolling and is bound to impress the anglers with its casting capabilities. You can utilize it in seawater for trout fishing or enjoy angling in freshwater without distressing corrosion and rusting. It will not rust even when used in salt waters.
In addition, this lure has a glossy and shiny finish that will instantly catch the trout's eye and is efficiently utilized with diverse fishing methods. This variety of best lures for river fishing are accessible in a range of weights and colors to match an angler's needs. The Acme Kastmaster is constructed with solid brass and stays intact even in rough scenarios.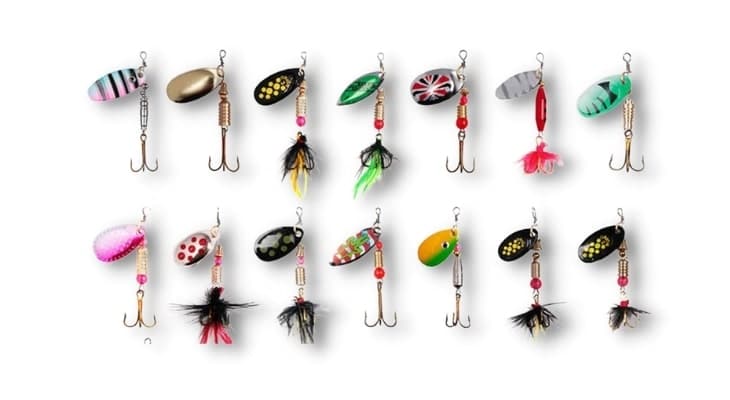 Founded in the 1950s, the rooster tail is one of the most productive spinners in the market. Being the most effective and versatile, it is considered the best trout lures for streams. The lure has an attractive spinning action and a tail that pulsates, making it striking for fish. Rooster tail outshines in small rivers and streams and will catch trout of all sizes. With the spinning blade alongside the brightly colored hackle tail that pulses, the trout will not be able to oppose this lure. This lure is recommended because you will need minimal adjustment and maintenance. The tackle has a treble hook that swings freely and works to minimalize the fish's leverage.
Tip: It is recommended to purchase Rooster Tails in various sizes and colors. So that you can choose one that is ideal for your fishing environment.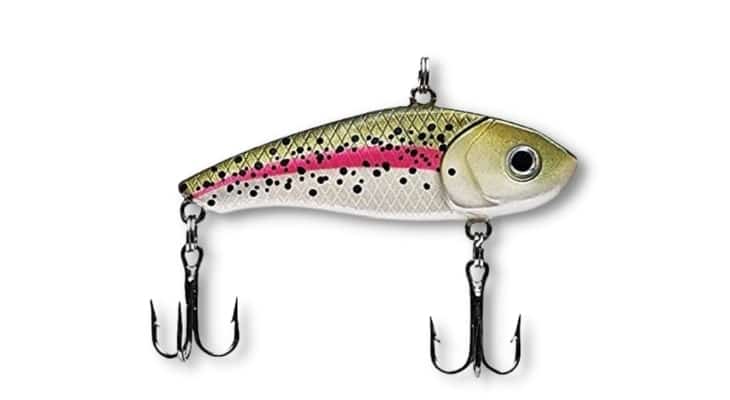 If you are looking for the best trout lures for rivers, then opt for Dynamic HD Trout. These are excellent at deceiving fish into believing that it is the real deal. The lures have a fish-like design and a pretty accurate movement. This particular lure has super sharp hooks, so once the fish is caught; it won't be able to escape.
In addition, these Dynamic lures for river comes with BB inner chamber that sustains a straight position. You will also notice that the lure offers a low-frequency rattle that looks a lot like actual fish. Hence, you will find it super easy to catch trout. The lure can go around 0-2 feet in depth and utilizes ABS plastic for providing durability. This material ensures that the lure is tough enough to handle harsh scenarios.
An exciting feature of this lure is that it works perfectly in still waters such as ponds and lakes and also has an excellent performance in moving waters such as streams and rivers. These lures come in an assortment of colors so that you can easily match your waters.
Go through the excellent customer reviews on Amazon to see why Dynamic lures are the best.
Factors to Consider When Choosing the Appropriate Lure for Trout
The majority of the lures mentioned in the article have a large range of sizes and colors. Once you have determined the conditions you will be fishing in; it will facilitate you in deciding the color and size of the lure that perfectly matches an angler's requirements. It is especially true when fishing in streams and rivers. By now, it should be clear, but if not, river trout lures and stream trout lures are different than those used in ponds, lakes, and oceans. Some variables to keep in mind when choosing the river fishing lures trout are:
Depth
The first factor to consider is the water level in the stream or river you are fishing, which will help an angler determine which lure to opt for. For instance, a deeper bait would be better when fishing in the deep pool with trout in the bottom. Likewise, if you are fishing in a small stream and the water is only a couple of feet deep, then a lighter lure is a better choice.
Water Clarity
Water clarity is a crucial aspect to consider when choosing the right and the best lure for trout. Purchase a natural-looking bait when fishing in clear waters. While opting for darker or murky water, you can get bright or dark color lures as it will produce the best results.
Cover
Every segment of the stream or river you are fishing might present you with diverse structures. You might come across some rocks, vegetation, bushes, etc. Make sure not to use a lure that can easily get stuck in the weed or other growth underwater.
Fish Forage
It is best to match the lure with what the fish you are hunting for eats. Doing so will considerably increase your chance of catching the fish. If you are planning to trick a trout into taking a swipe at the lure, the size, color, and action of the best trout lures for rivers should closely resemble what the fish generally eats.
Fishing Conditions
The weather plays a dominant role when it comes to choosing fishing. It will determine the type of river trout lures you use and how you throw them in the water. Like murky water conditions, the bright and vibrant lures are expected to perform well in low-light situations. On clear sunny days, natural colors are a perfect choice.
Where To Find Fish In Rivers And Streams
Besides equipping yourself with the best trout lures for rivers and the best trout lures for streams you need to find the right spots for a successful fishing trip.
Pockets and Eddies
One of the best areas on a river to target is eddies. This is because feeding fish enjoy eddies. You will find trout sitting behind big rocks and waiting for their food.
Bends In the River
You will often find trout hanging out in the changes or bends in the river. Don't skip on casting your line in the curves.
Drop-offs
Alterations in-depth, like the drop-offs, are also where you can find trout waiting for an easy meal.
Overhanging Trees
Fish can time and again be found hanging out in the shade of a tree or bush. This can be a perfect spot to mark through the day.
Tips for Fishing the Stream and River
Mix up your retrieval speed
Utilize light line
Twitch, pause, twitch and jerk to attract bites
Target bends, eddies, breaks, shade, etc.
After tying the knot, cut tag end very short.
To Wrap it Up
The article above talks about the best trout lures for rivers and streams. With the pros and cons of each lure, the article aimed to inform you about the available lure alternatives and which works best in what conditions. Pick out the best bait for your requirements and fishing techniques. Utilize the insights provided above and make a choice that will help you catch more fish easily.
Ranking the best out of these is a matter of personal choice and the river or streams you plan to fish in. However, in terms of features, the best lure for river fishing is the Dynamic HD lure. It has a real-life design which makes it easier to catch the fish. Moreover, once caught, these fish won't be able to get out (you will need to focus on your reeling technique, too fast or too slow, and you may lose a sure catch.