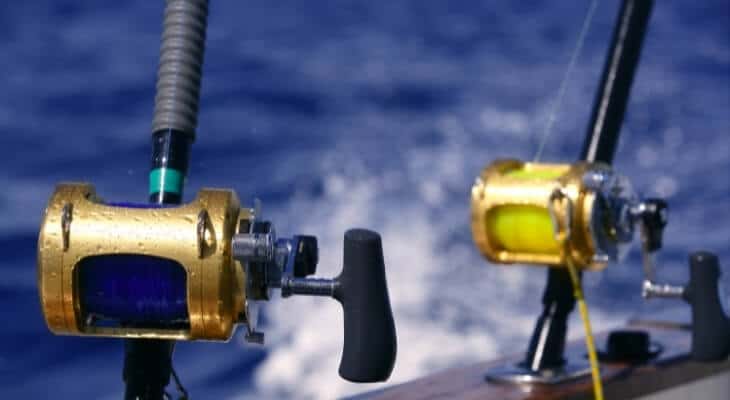 Saltwater fishing tends to be exciting ONLY if you have the right gear. For this reason, you must invest in a good quality reel. However, people do have budgetary constraints and cannot exceed their limitations. But does that mean they will have to compromise on a good quality reel? Not really. If you are one of those individuals who are unable to spend a LOT on fishing reels, then this article is for you. It will bring you the best saltwater reels under $100 options and review them so that you can make an informed decision.
Saltwater consists of salt, large and strong fishes in it. Prior to going fishing with the sole purpose of catching it, it is best to ensure that your gear is up to the mark. It is particularly true for reels.
Given below are the seven best saltwater spinning reels under 100 dollars. You will also find bigger models of each reel, which are ideal for surfcasting.
Top 7 best saltwater reels under $100 In 2022
When shopping for a saltwater fishing reel, the options accessible to you will be countless. Picking one out of the lot can be a challenging task given that you would love more than one. For this reason, it is essential to read the reviews of each spinning fishing reel. Being aware of the features will allow you to make an informed choice and also ensure that the reel you decide to buy is the best one for your specific needs. With these reasons in mind, we have compiled reviews for the seven best saltwater spinning reels under $100 in the market in 2021.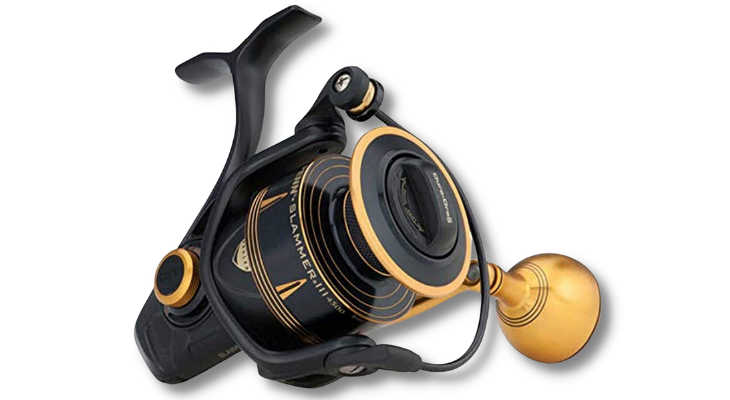 Overview
Want to make your fishing experience enjoyable? Purchase Penn Battle II spinning reel. This is the perfect saltwater reel for fishing enthusiasts owing to its smooth drag and anti-reverse features. You will find that the heavy porting on the spool makes the reel aesthetically appealing.
As a result, you will notice an improvement in the weight and turning balance. The spinning reel comes with an excellent paint quality which safeguards the reel from saltwater chemicals and sprays. 
Specifications
This model of the Penn reels is considered the best surf reel under 100 because of the premium features it is packed with. The spinning reel has a full metal body, a rotor, and a side plate. Even though it is slightly heavier, the reel can offer resistance when it comes to catching bigger fish. The reel has instant Anti Reverse which removes the back play on the rotor.
Moreover, the reel has a heavy-duty aluminium bail wire which offers durability and will not warp even after years. Owing to this you will not experience inferior line management.
One of the most adored features is the addition of line capacity rings on the spool. This ensures that you are always aware of the remaining line on the spool.
Why should you buy it?
There are a couple of reasons that can convince you to purchase the Penn Battle II spinning reel. For starters, it is ideal since it will not cost you an arm and a leg. You must also opt for this best-budget saltwater spinning reel if you are inclined towards saltwater fishing. The reel comes in a metal body that offers durability and will not corrode.
One of the great features of this spinning reel is that it comes with five completely fixed metal balls that present substantial protection against harm from different kinds of damages.
Another excellent feature is the soft-touch knobs that allow for effortless retrieving and handling. The spool comes with recently added Line Capacity Rings that are one of the main features of the PEN range. You can easily find the product on Amazon.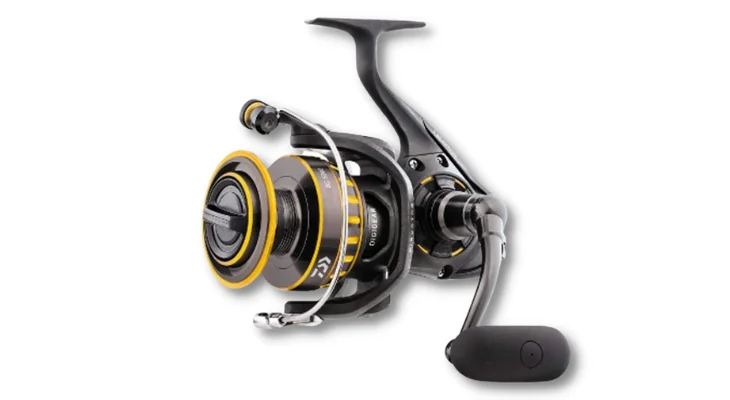 Overview
Daiwa BG spinning reels are included in the best saltwater spinning reel because they come with impressive features. Even though there are ten models, the Daiwa BG-BG8000 spinning reel has impressed us the most, which is why it is included in the article. The spinning reel comes with a smooth action and offers great power that allows an angler to handle and catch the bigger fish. The reel is known to cast with utmost smoothness and also retrieves quickly. As a result, this is the perfect reel for high-speed spinning.
Moreover, it is constructed with "Hard Bodyz" and has an aluminium spool. The construction material makes the reel corrosion-resistant and durable. 
Specifications
Some of the most awesome features of this reel incorporate the construction and premium quality build. The BG reels have machined aluminum body and body covers. Therefore, the structural strength of the reel is pretty good. Owing to the reel's shape, you will get an air rotor that significantly reduces the weight of the reel. All this is achieved without compromising on strength. The BG series have digitally created and cut gears, which are designed to be oversized. In this model, this feature is combined with a brilliant bearing system, allowing for smooth performance.
Moreover, the handle's efficiency has increased considerably. A solid handle is essential to fishing. For this reason, Daiwa has tried to lessen this by utilizing a solid screw handle design. It removes the play amid the handle and the reel body.
 Why should you buy it?
As one of the best reels for saltwater fishing, the Daiwa BG-BG8000 is famous for its performance. People prefer purchasing this reel because it is tough and comes with black anodized aluminum construction. This is a versatile reel because it can handle strong fish like sailfish and tuna, which is why offshore anglers love it.
The best feature of this reel is its price, making it perfect for people who wish to purchase in bulk. It comes with a dark anodized body and body cover, which facilitates optimizing strength. The reel will not get any scratches and the chances of corrosion will be minimized.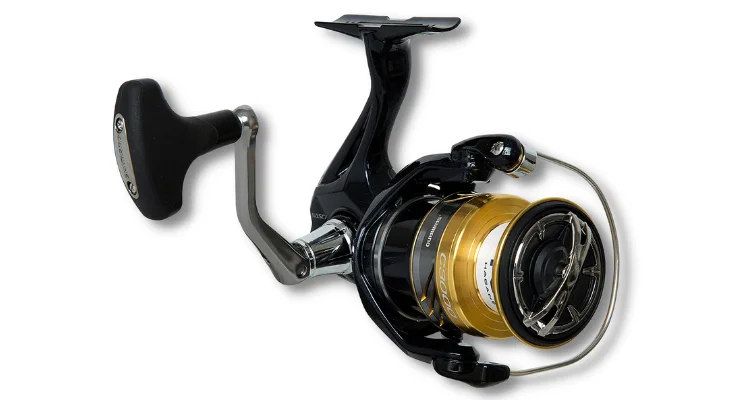 Overview
With the price tag, the majority of people see the SHIMANO NASCI Compact Spinning Reel 2500FB as an entry-level reel, however, this model does not perform like an entry-level reel. It is one of the best fishing reels under 100 owing to its smooth retrieve, overhauled drag, and deceptive cranking power.
With a variety of model sizes, the NASCI can offer you multiple reels suitable for fresh and saltwater applications. The 2500 FB model is the best saltwater fishing reel you can find which offers top-notch features for an exciting fishing experience. 
 For further information on price, visit Amazon.
Specifications
The SHIMANO NASCI Compact Spinning Reel 2500 FB is pretty easy to use given that it is a well-balanced rod leading to minimize fatigue. It comes with an aluminum handle and a huge rubber paddle grip that permits anglers to have great leverage when attempting to catch fish and experience little slip, quiver, or back play. In terms of construction, you will find that the thick aluminum bail is amazing and it also has an auto bail. The reel is a streamlined and well-oiled machine. It comprises a thick bail wire, arm, and aluminum alloy spool.
All these features will brilliantly resist body flex under force. The reel has Hagane gears that offer smoothness and increased strength to anglers.
One of the best features is that the 2500 FB is treated with water repellent surface treatment.
Why should you buy it?
If you are looking for a reason to purchase 2500 FB, then you must know that this reel will make you feel that everything is at your fingertips. You can easily utilize the drag adjustment dial on top of the spool, which is a simple example of the ease it brings when using the reel. Even though you will need to diligently clean the rod, the materials utilized to construct it will resist corrosion in saltwater.
When it comes to looks, the best reel is stunning and has a deep blue metal finish and gold accent. The performance of this spinning reel exceeds the price which is why it is preferred by many. You might want to invest in this reel because it weighs lesser than other reels and has an improved G-Free body design.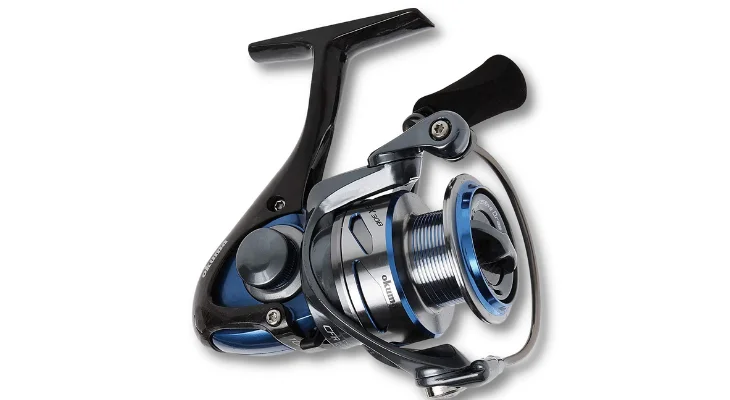 Overview
If you are looking for an affordable spinning reel to fish saltwater, then the Okuma Inspira Carbon Frame Lightweight Spinning Reel is a great option. The 3000 series fishing reel offers a size up compared with the 2000 series and weighs approximately 7.4 oz.
Moreover, it augments the line capacity by 25%, whereas the drag remains the same at 13 lbs. This reel has carbon fiber and a rotor that allows for a greater amount of airflow. Okuma has made a design innovation that allows for corrosion protection.
All these features give this reel durability to ensure that it lasts for years. 
For the latest price of Inspira, check on Amazon!
Specifications
The Okuma Inspira Carbon Frame Lightweight Spinning Reel boasts of some remarkable features. This reel might have a small structure, however, its performance is amazing. These features incorporate a lightweight C-40X carbon frame and side plates. By utilizing this technology, this reel is 25% light in weight compared to the graphite versions.
Moreover, these designs are also stronger. These series are also resistant to corrosion, making them ideal to withstand the harsh environments of saltwater. 
Cyclonic Flow Rotor is another impressive feature that gives a sleek and modern look. In addition, the ported design permits for more even and augmented airflow over which makes it dry quickly.
Another feature that stands out is the 8 corrosion-resistant stainless steel main bearings and one corrosion-resistant stainless steel roller bearing. When it comes to smooth and balanced bail operation, you will get it from this reel owing to Centrifugal Disc Bail design. The reel also offers a super smooth retrieve
Why should you buy it?
From powerful crafted aluminum handle arms to an elliptical gearing mechanism, this reel incorporates all the essential features. You must buy it if you want to catch big freshwater fish with a smooth drag pressure. Generating a strong airflow near the rotor when fishing, the CFR system of the 3000 series flushes water away from the spool system, decreasing the influx of water and erosion.
Most people also love this reel because it has enhanced strength and stability. This model is more universal, and it is perfect for larger steelhead, bass, catfish, containing saltwater and redfish.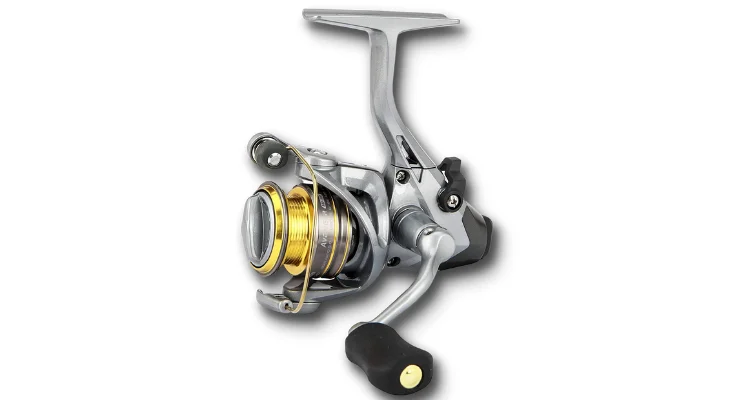 Overview
The Okuma Avenger is the best fishing reel under 100 for saltwater. This reel comes with a washer which enables it to pull the hooked fish with excellent strength. The construction of the spool is lightweight which allows for consistency and fluidity.
In addition, the reel has a graphite body which makes it corrosion resistant when used in saltwater. This spinning reel has the most effective drag system, making it better than other reels with the same price tag. 
Specifications
Okuma Avenger ABF Graphite Bait Feeder Reel comes with a couple of great features including the fish finder, which allows you to see where the fish is. It is a light weight spool that reduces the risk of hand fatigue.
Moreover, the spool comes with a smooth oil-soaked felt washer. Another feature is the adjustable tension of the spool for rear adjustment. The best saltwater spinning reel under 100 also works perfectly in freshwater.
Why should you buy it?
You must purchase the Okuma ABF reel because it provides you with precision. This reel is excellent for relaxed sports anglers while offering smooth performance. The smooth oil-soaked felt washer and six sealed ball bearings make this a popular reel when we talk about the smooth operation. You will also find a lever that is placed behind the handle to disengage the spool. It allows for the line to run freely. You will love this reel because it is comfortable on the hands when catching larger fish. Moreover, you will not need to have different spools.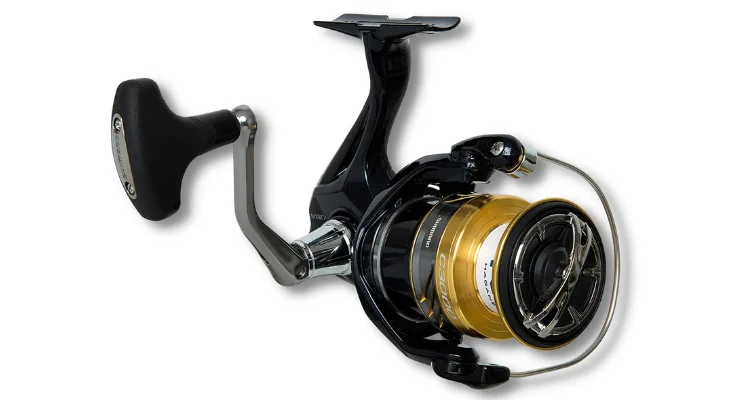 Overview
When looking for premium performance, the Shimano Nasci is going to deliver. The compact spinning reel comes with top-quality Hagane gear and CoreProtect technology. Owing to five ball bearings and other features, the spinning reel provides a smooth user experience. Given the X SHIP technology, you will receive an increased casting efficiency and higher accuracy. 
Specification
Some of the most amazing features are packed in the best surf reel under 100. The compact spinning reel comes with a 5-bearing drag system and features a maximum drag amid 7 and 24 pounds. It utilizes a Hagane body for improved stiffness when battling with bigger fish. For higher durability, this reel comes with X-Ship and CoreProtect Technology. You will receive a smooth retrieve and a higher control with the front drag. With this reel, you can pick up the faster line, which is ideal for use with diverse hook settings.
Why should you buy it?
The Shimano Compact spinning reel is high-value but comes in an affordable price range. If you aim at light to medium saltwater fishing, then this is the reel for you. It has a well-oiled machine, aluminium compound spool, and thick wire. This reel also has corrosion-resistant ball bearings to facilitate reel rolling in harsh environments.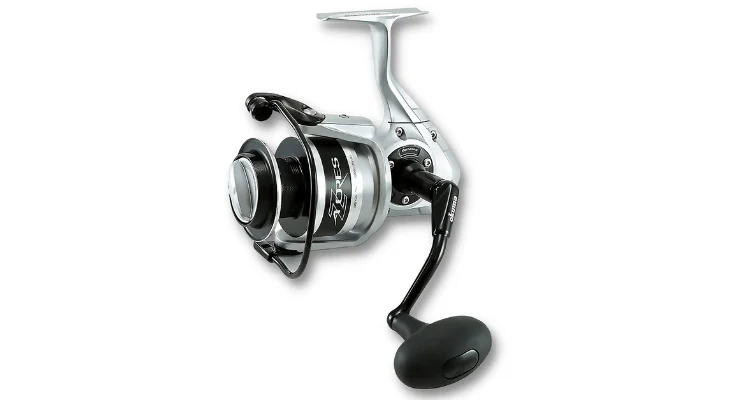 Overview
If you don't have a big budget or don't fish offshore on a regular basis then the Okuma Azores spinning reel is for you. Weighing 44 pounds, the best saltwater reels under $100 is smooth. It comes with a corrosion-resistant coating, is high-density, and has seven fully sealed ball bearings. The Azores is designed specifically to meet the needs of saltwater. The reel also comes with a hydro-block watertight seal that safeguards the drag housing from contaminants.
Specifications
The Azores has an all-aluminium body and sturdy brass pinion gear. This durable material is essential when fighting a big fish that needs you to place substantial weight on the reel. Given that the reel is reliable, it is the go-to option for professional anglers.
Why should you buy it?
You must invest in this reel because it offers high quality and is perfect for saltwater. This reel makes it easy to catch bigger fish and has a Dual Force Drag system. If you are in search of a spinning reel that can catch large fish, then this is the one for you. If you need a spinning reel that can easily handle bigger fishes, then look no further.
Things To Consider when Purchasing Saltwater Spinning Reels under $100
Whether you are a beginner or a skilled angler, spinning reels will work perfectly given that they are easy to utilize, highly flexible, and in most cases, pretty reasonably priced. There are a couple of features that you will have to keep in mind when you wish to go fishing in saltwater.
So what are the characteristics of a good enough saltwater fishing spinning reel? Several features that come together to ensure a good spinning reel incorporate versatility, quality construction, smooth drag, line capacity, gear ratio, corrosion resistance, etc. 
Corrosion Resistance
If you are looking for the best saltwater reels under $100, then make sure it can resist corrosion because it is an imperative element. When you go saltwater fishing you can expect a really harsh environment because saltwater will be coupled with grit and sand, which can easily damage metals. The saltwater reel you choose should be constructed using materials that can stand this harsh environment such as aluminium, stainless steel, and similar materials that can specifically decrease corrosion.
However, it is recommended that you must perform constant cleaning and give proper care. You might want to check out waterproof reels for your saltwater fishing adventures. This is because these reels are less prone to damage.
Braided Line Compatible 
When you search around, you will notice that not all reels are equal or offer perfection to utilize along with braided lines. However, if you wish to utilize this kind of a line, you must ensure that you buy a rod and reel that gracefully welcomes braided lines. 
Drag
If you are looking for the best surf reel under 100, then you must opt for one that has a powerful drag. Remember that saltwater tends to have larger fish, which is why you must have gear that can tolerate the harsh environment and circumstances. You will have to keep an eye on the reel drag.
When your rod or reel comes in contact with saltwater fish, it will get strained and part of that strain is taken up by the drag. It is the barrier between the strain and the reel to break. The majority of the saltwater reels come with multi-disc drag systems that will put a stop to strong and fast running fish.
In addition, the reels can drag approximately 40-50 lbs In general. It is imperative to ensure that you purchase the best budget saltwater spinning reel with a carbon fibre drag system that adjusts swimmingly.
Moreover, to get a great saltwater reel you must opt for one that has drag with warmth dispersing characteristics. A plus will be if the patterns on the spool allow cooling wind current.
Line Capacity
A spare drag will slow down huge, running fish. Along with that, an angler must make sure that there is an ample amount of line to allow the fish to run. In brine reels, line capability might not have an excess of line compared with fresh ones. To be successful at fishing, you need to guarantee that there is ample line capability to attempt it.
There are three things that you must keep in mind when it comes to the line; what the reels line capacity is, what your rod can handle and how heavy or light fishing you wish to purchase.
When it comes to a saltwater spinning reel, you can use it to manage the lowest weight to heavy lines. This is also dependent on the model. 
Gear Ratio
Contingent upon the sort of fishing you want to indulge in, you need to consider the gear magnitude relation. 7:1 and larger are seen as a higher gear magnitude which is great for retrieving big lures with ease and quickly.
On the contrary, a 5:1 is considered to lie in the lower range of gear magnitude relation which can offer you additional power to reel in a head honcho. A reel's gear magnitude relation is utilized to determine the number of times a spool revolves with each flip.
For instance, if you get a reel with a gear ratio of 7.3:1, it implies that the spool will turn 7.3 times with every crank. Pick out a gear magnitude relation for retrieving quickly when you want to angle with spinners or topwater fittings.
This is even true for pulling in long queue lengths when trolling. With a low gear relation magnitude, you can get additional power to tug the head honcho if it gets in trouble.
Ball Bearings
Lastly, ball bearings are a major feature to consider before buying the best surf reel under 100. Ball bearings are inside the spinning reel and are essential to the proper functionality of the reel. Different models, versions, and brands of reels come with different numbers of ball bearings. The difference in ball bearings makes a reel good or bad. Some will have 4-5 while others may have 10.
Typically, the higher the ball bearings a reel contains, the better it will perform.
Moreover, the experience with reels that have a higher number of bearings will be better. This is especially true for spinning reels because they will perform much smoother with higher ball bearings.
Hence, when buying the best budget saltwater spinning reel you should try to buy a reel with the highest number of ball bearings that you can afford. It is especially true if you utilize the reel on a regular basis.
FAQs
Do Saltwater Spinning Reels under 100 offer the Same Standard as Higher-Cost ones?
Yes, there are some reels that offer higher durability and are more efficient compared with higher-cost reels. 
How can I Avoid Damage to my Spinning Reel while Using it? 
Initially, you must ensure that the reel is constructed for saltwater fishing. Otherwise, the reel's body will be spoiled and the saltwater will damage interior mechanisms. You should know the size of the reel and what kind of fish it can be used for. 
How do I Preserve my Reels?
To maintain your reels, you should clean them regularly and store them in a dry and clean place. You should avoid dropping the reel on the ground because it can break. Moreover, it can create damage to the internal parts.
How do I Determine a high gear ratio or low gear ratio?
Reel with a high ratio delivers more spins which is excellent for retrieving fish quickly. However, if you want to catch bigger fish, then you will require a higher cranking power, which is delivered by the low ratio gear.
Final Verdict
Saltwater is just not friendly to metal and has bigger fish. For this reason, you must have the proper fishing gear prior to planning the fishing trip. This will ensure that you actually catch the fish. The reel is an imperative part of the gear which is why you must make sure that it is top quality. If you get a poor-quality reel, you will not be successful at catching fish irrespective of your skill level. This article reviews the best saltwater reels under $100 so that you can make the right decision. All these are well-equipped and budget-friendly.