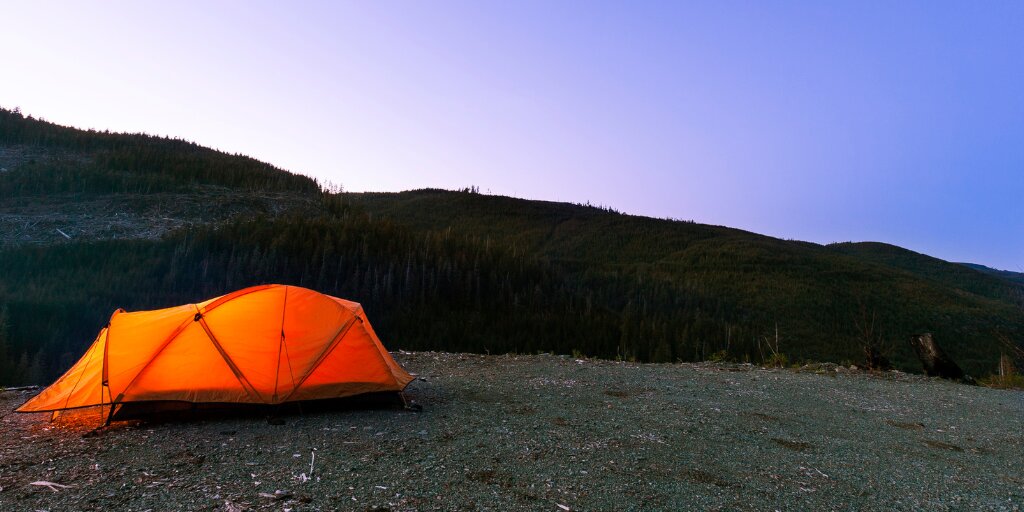 Kayaking is an exhilarating, energizing, and challenging outdoor sport or physically and mentally demanding hobby. Although the tent you'll use might not be the first thing on your mind, you could mess up your trip if you don't have the best tent for kayak camping.
I know a few things about how tents work. A canoe camping tent usually needs to be lightweight and easy to move around. Even though these are pretty obvious, people sometimes forget them when they are excited about getting a new tent. Suppose you have a good camping canoe or a kayak for camping. Then you would know precisely how much weight the canoe can hold and could plan how bulky your gear can be.
What matters to me is how well the tent can handle the weather and how long it will last. I wouldn't want to spend $100 or more on a tent only to have it fall apart after a few trips. But it's hard to say how long a tent will last or how well it will hold up in an unexpected storm.
So you can't just go by what someone says; you require to ask around. Go to a river or a store that sells camping gear near you and ask people who often go canoe camping. Ask them to tell you about the tents they are using from their own point of view. They will tell you the truth as best they can.
We've picked some of the best kayak tents and kayak storage ideas for campers based on what honest people have told us and what we've learned from other sources. 
There is nothing cooler than a kayaking tent that is small outside but has a lot of room inside. This 56-by-43-by-92-inch tent gives campers about 35 square feet of space. It makes it a good option for experienced campers who want to try something different.
The Mountainsmith Morrison is made for 2 persons and can be used in all three seasons. The best part is that the tent is made with roof vents to ensure air flows well. The tent weighs 4 pounds and 11 ounces when it is all packed up. It can be packed up really well so that it's easy to move.
This tent is cheap and easy to hide. It would be an excellent addition to anyone's outdoor gear. It has a lot of amenities and is easy to live in. Even though it's not easy to carry on your back, we still love it for lounging. The Mountainsmith Morrison 2 is very simple to set up and relaxed. Even though it's heavy, this tent is still one of the best in our review.
Setting up the Morrison 2 is easy. It is made with just two poles. Each pole end fits into a grommet at each corner of the tent. A cross-shaped pole in the middle makes it easier to stand up. The fly snaps at each corner, and the tent's two end guy lines and vestibule doors hold it down. We like that the guyline is already attached to the fly, but it was harder to get the tension right on the single-point fly than on the trapezoidal flies of the other models we looked at.
When you consider the value of a detachable gear loft and the fact that setup guidelines are printed on the stuff sack, you have a tent that does much more than it costs.
Pros
The price is excellent for what you get.

The best building work

A good quality rain fly that covers a lot

Plenty of airflows

There's plenty of room for a tent for two

Large interior

When packed, they are small.

Generally not too heavy

Color-coded designs make it easy to set up.

Durable rain cover with holes to let air flow
Cons
Not the least expensive item on this list.

It could be tight for two people and their stuff.
The ALPS Mountaineering Lynx 4 is an excellent option for a day trip with the family in the spring and summer. Two parents and two small children can sleep comfortably in this tent, but older children will find it a tight fit. So, it's great for warmer months but not so great for colder ones.
The fact that the Lynx has two doors and two vestibules is a massive plus for me when it comes to camping with others.
I also like that the UV-resistant rainfly keeps you from getting too much sun and that the floor and zippers are strong. It packs down to 6 inches by 23 inches, so it's not much bigger than most kayaking tents for two people.
This tent is generally decent when it rains, and taller people will like it because the sleeping area has more than seven feet of space.
The tent's 8.6-pound weight and sealed seams mean you won't have to worry about water leaking into the interior. That's pretty good for a tent this good that can fit four people.
The Lynx is a two-pole tent that is freestanding and self-standing. It is easy to set up because the tent's body clips to the poles in a crossed pattern. We find it strange that the Lynx doesn't have a master point where the poles cross at the top of the body. It is something that most two-pole tents have. Alternatively, it has an average clip in the middle, and you can choose which pole to attach it to. It comes with four pieces of cheap guy line and four cheap hook stakes that are easy to bend. The guy lines are long enough to stake correctly, but it didn't come with enough guy lines for all the guy points.
The only bad thing about it is that it doesn't look like it was stitched twice. Over time, the seams might start to come apart, especially if you have active kids who like to jump around.
Pros
Nice for the summer

Long-lasting zippers

Two entrances and foyers

Suitable for people who are taller.
Cons
The seams aren't the most durable.
Your next camping vacation should include the Coleman Dome Tent with Screen Room since it is the most extraordinary tent available. It is one of the best tents for kayak camoing. This Evanston Camping Tent has a screen room that covers the whole floor and keeps bugs out, so you can relax peacefully.
The spacious room's interior can fit two queen-size air beds, and the included rainfly gives you even more protection from the weather. The carry backpack makes this tent easy to hold and move, and the 1-year limited warranty ensures you'll be happy with it. The Coleman Dome Tent with Screen Room is an excellent option to consider if you are looking for a tent that comes equipped with its own screen room.
In addition to coming with a rainfly, this tent features welded corners and seams that are turned so that the outside faces in. The bug-free lounging feature is also a great addition because it lets you enjoy being outside without worrying about annoying bugs.
The spacious interior can fit two queen-size air beds, making it an excellent choice for families or groups of friends. This tent comes with a carry bag, making it both simple to transport and convenient to keep.
Pros
There's plenty of room for 6 people

Great price

A nice tent.

Stable dome structure

The screen room is on the ground, but it doesn't have any waterproof walls.
Cons
One problem with this tent is that it might be hard to set up because of its complexity.
The Geertop 1 can be set up in a few different ways. You can get it with just a mesh inner tent, just a rainfly, or both. You get a certain number of stakes and guy ropes based on your choice. The options include a bag to carry them and tent stakes, but no tent poles. Instead, you utilize your trekking poles. The rain fly is less than two pounds, and the inner tent is less than one pound. It can be used for three seasons. This is an excellent backpacking tent for 1 person. 
It's not common for you to find a very light and cheap tent, but the Geertop 20D does both! It fits very well in a bag. There is no chance of moisture with two doors and two ventilation windows. And it has two compartments so you can store plenty of gear there. The fact that the flysheet and inner tent can be used separately is a plus.
Pros
Backpacking tent

that's easy to carry

Fast setup

One person has enough leg room

It can be used as a backpacking tent for all four seasons and in any weather

The outer rain fly has an unbelievable 8000mm hydrostatic head rating, which means it can withstand a monsoon

It can be used with a winter tent

There are different pockets to help store things

Built-in snow skirt that can be used on snowy days as well as on hot days

vestibules for extra storage space

No more problems with the way words are put together!

The seams are double stitched to make them waterproof and last longer.
Cons
The waterproof zippers aren't the best

It could have been better when it rained a lot, and the wind was extreme, but we stayed dry.
The NEMO Aurora tent, one of the fantastic and reliable best tents for kayak camping, can be used in any way. If you're planning on going on a car camping trip or any other occasion where you'd like to spread out, this tent is perfect. It has big doors on the side, storage wallets for each sleeper, and mesh for privacy. This tent is simple to erect and spacious enough to accommodate two people of average height. This one is a good choice if you want a single tent that can be used for more than one trip.
A unique thing about this tent is how much space it has for its weight. Several of the other items in this review have more floor space than this one's 32 square feet. We love that this tent is easy for two people to use at a relatively similar time.
Despite its average 88-inch length, its high side walls set it apart from the pack. The 44-inch peak height gives a lot of headroom, and the extra crossbar spreads it out over a reasonably large area that goes from wall to wall all the way around.
It works well in most circumstances, but Aurora's weather resistance isn't its strong suit. The fly and entrances sheltered us and our gear from the rain. But we ran into a problem we've seen on a couple of other models: when we tightened the fly enough, it compressed the tent itself in some places, making it sag and limiting the space inside.
Pros
The ultralight polyester and no-see-um mesh canopy keep you dry and out of the weather

Easy to set up because of the hubbed shape

Almost vertical side walls make the most of the space inside

Vents at the top of the fly

Light PocketTM is made of fabric that spreads light so that your headlamp can be used as a lantern

The vestibule is a place to store things and a dry place to put on your boots

The reception area has storm flaps that keep water from getting into the tent.

It comes with a footprint, stakes, guylines, a repair kit, and a bag to put things in.
Cons
Not very light.

Expensive.
If you want to save room in your backpack, you'll be amazed by how small the Flash Air one is when packed. When it's all packed up, it's about 16 by 6 inches (40 by 15 cm), including the stakes and poles, REI Co-Op Flash Air 1 is one of the most suitable and best tents for kayak camoing. But if you pack the stakes and poles separately, you can easily squeeze the rest of the tent down to about 6.3 x 8 inches/16 x 20 cm, which is only about five liters.
The Rei Flash Air 1 comes with five DAC Aluminum stakes that weigh 2 oz/59g. They all need to set up the tent and feel like they will last for a long time. At least we haven't broken or bent any of them yet, and we've used them even when the land was frozen in the winter.
The fly and the floor are made of ripstop nylon, and the rest of the tent is made of nylon mesh. As with all ultralight tents, the fabric is very slim and seems like it could be comfortably torn. Still, there haven't been any tears or holes yet.
When we got the REI Flash Air 1 for the first time and set it up, we thought it was a pretty complex process. But afterward, of using it, we got used to it, and now it only takes a little longer than setting up a basic freestanding tent.
Pros
It's one of the tents that weighs the least

Compared to other ultralight tents, it's very cheap

Very small when packed

An ultralight shelter that can't stand on its own for people who want to cover many miles.
Cons
Condensation is not suitable for places where it rains a lot

The inside isn't much bigger than a bivy bag

At first, setting up and taking down can be challenging.
First, we have a tent from Amazon's top-selling list, the most popular tent on our list. It comes in three sizes: for 4, for 3, and it is an amazing backpacking tent for 2 person. We think you should get the one for three people because it will fit in your kayak and has a vestibule.
Even though it weighs 12 pounds, it is still worth it. The weight of this tent is made up for by how much space it gives you. Literally, the entire tent is covered by a nice rainfly.
The fact that this tent is so cheap shocks us. It's one of the more affordable items on this list, and a well-known brand makes it, so you can't go wrong with it.
Inverted seams on the Coleman Hooligan make the tent more weatherproof because needle holes are hidden inside the tent. Since the laces are manufactured of fabric that won't get wet in bad weather, water will no longer leak through the zipper.
One of the significant items we looked at was that the floors are waterproof. Rain and wind don't bother it much, so you don't have to worry about bad weather.
This tent is very simple to set up. It is 8 feet by 7 feet, more than enough space for three people to sleep in. Color-coded poles make it even easier to put the tent together.
Pros
Price is low

Vestibule

10-minute setup

Protection for zippers

Waterproof floors
Cons
Heavy compared to the competition
This tent has a single door on the corner of the tent. The vast entrance hall is a whopping 14.8 square feet. The vestibule room is a great place to store gear, and the mesh door and roof let in as much air as possible to keep condensation from building up.
This tent also has shock-corded fiberglass poles, a rain fly, and a floor sealed at the factory. The company that made this tent says that it is easy to set up and take down because it has a simple, all-clip setup and can stand independently.
They have also said that the rain fly is resistant to the sun's UV rays and won't stretch when it rains. The Eureka Apex also has two pockets for storage, carry bags, and stakes. There are also steerable guy points on the outside of the tent that help it stay up in strong winds. With the purchase, you also get a free gear loft.
The huge vestibule makes it so much more convenient to store your gear. It's more huge than other tents, making long backpacking trips easy. All seams are sealed at the factory. So, when the tent arrives, there won't be any more weatherproofing to do.
This tent is very waterproof, and the guy lines are set up to keep it standing even in strong winds. It has a little more space inside than other tents for one person. This is a plus for more prominent men. It will easily fit someone 6'5″ tall and still leave room to move.
This tent's ventilation is excellent and has been said to work much better than that of more costly tents.
Pros
Possibilities are light

Interior pockets with advanced ventilation

Simple Setup

The Gear Loft

Large Vestibule
Cons
It's a bit heavier than other tents for one person

This may be a problem if you don't plan to keep warm at night.
Coleman has been making a class series of tents for a few years now, which has helped it become one of the best tent manufacturers. And if we're talking about the best kayak tents, the Coleman Sundome is best backpacking tent for 2 Person and it is one of the best on the market.
Coleman's Sundome 2-Person Tent offers a stylish, compact shelter for two (48 inches of height) for tropical and warm climbs. Even without extra waterproofing, this tent will keep you dry and safe.
An X-shaped pole structure makes it ideal for kayak camping because it can be set up on any surface, making this tent essential. The tent has mesh windows on all sides to breathe well.
All sides of the tent have mesh windows, but as you can see from the pictures, they are very high. The photo above shows that you have an extra vent opening close to the floor. If there is snow around, vents that are so low might not work well because they don't let in much air. But you would never use this kind of tent as a four-season tent. See the picture of the tent without the fly to get an idea of what the rest of the tent looks like.
Pros
Interesting design

Freestanding

Unbelievable pricing.
Cons
Heavy

One door only

No vestibules

The rain fly is tiny.
Buying Guide: Things To Consider While Buying Best Tents For Kayak Camping
Buying a tent for your kayak camping trip is a big deal. There are a lot of camping tents to choose from, and they can get pricey quickly. You don't want to go camping with the wrong gear. We're here to help make this process as easy as possible, which is good news. We'll tell you about the most important parts of camping tents, what they're used for, and whether you should care about them or not.
Seasonality
Before choosing a tent, you should consider how you like to adventure. Do you want to be able to fall asleep outside even when there is snow falling? Or do you just want a reliable tent for a couple of summer camping trips? The season is the first thing to think about when choosing a tent that will keep you satisfied on every trip.
Three-season tents are made to withstand wind and rain in the spring and fall, but they aren't made to last in harsher environments. Instead, if you need a tent to bring on an alpine voyage or a trek in an extreme climate, the best four-season tents are designed to shield you from the factors, even if it snows a lot or there are strong winds.
Size and Weight
If you just want a tent to throw in the trunk of your car for camping trips, size and weight are likely not that important. If you don't have to worry about weight, go big. Most tents will say in the name how many people can fit inside. When kids, dogs, friends, chairs, and other things need to do inside the tent, it needs to be more significant.
On the other hand, weight and size matter a lot if you want a reliable tent to take on backcountry trips. Some of the best backpacking tents come with storage systems that involve multiple stash bags. It makes it easy for various backcountry travelers to share the tent's weight.
Livable Space
The more space you have in your tent for sitting up, moving around, changing, and packing up in the morning, the better. The only major drawback to choosing a bigger shelter is that you will have to carry more weight. In general, backpacking tents are made to be 20 inches wide per person, with a bit of extra space on the floor. Think about going up a size if your sleeping pad is more oversized or you want more room. Look for a tent with a horizontal spreader bar as part of the pole system. It will give you a lot more headroom.
Ease of Setup
Most hikers choose a quick and easy shelter to set up because it allows them to eat more quickly at the end of a long day of hiking. Some tents include a single-hub pole system that collapses down for travel and then snaps together to support the tent body, making it simple to set up. Most tents ought to take no more than a few minutes to set up once the user has understood the relationship between the tent body, the rainfly, and the poles.
Final Thoughts
Once you've decided on a tent, spend some time with it. You can begin by setting it up in your backyard or a nearby area of your home. Learn about the different sizes of poles, how the rainfly fits, and how to pack everything up when you take the tent apart. The more you practice putting it up and taking it down, the easier it will be when you're on the trail. Choosing a tent can be challenging, but if you give it some thought ahead, you can find the perfect one that will keep you safe for years to come